Vitamin D3 with Sea-Iodine
5,000 IU, 60 capsules | Item Catalogue Number: 01758
Overview

We've combined vitamin D3 with iodine for dual-action health support. Iodine is essential for supporting thyroid hormone production. Maintaining healthy vitamin D levels helps support cognitive, bone and immune system health. It also helps maintain already-healthy blood pressure and supports a healthy inflammatory response, endothelial function and more.
Many people need 125 mcg (5,000 IU) to 200 mcg (8,000 IU) of vitamin D3 a day to promote optimal health. This formula has 125 mcg (5,000 IU) of vitamin D3.
Vitamin D3 with Sea-Iodine Benefits
Sea-Iodine derived from organic sea algae
Shown to support vitamin D levels with daily use
Helps counteract iodine deficiency in modern healthy diets
Supports bone density, cell differentiation, and immune health
Provides iodine, a trace mineral essential to healthy thyroid function
Vitamin D3 with Sea-Iodine
Getting Enough of the Sunshine Vitamin
D Vitamin is called the sunshine vitamin because your skin manufactures it when exposed to sunlight, but that shouldn't be your only source. A vitamin D supplement goes a long way. We recommend about 125 mcg  to 200 mcg of vitamin D3 a day. If your multivitamin already delivers 25-75 mcg (1,000–3,000 IU) of vitamin D, this vitamin D3 125 mcg supplement is perfect for achieving optimal levels.
Product Details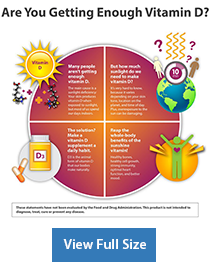 Iodine is essential for thyroid health
Iodine is a trace element essential for supporting the production of the thyroid hormones triiodothyronine (T3) and thyroxine (T4). The thyroid gland actively absorbs iodide from the blood in order to make and release these hormones. Iodine is abundant in seafood and sea vegetables, but not everyone likes or has access to marine foods and vegan diets sometimes lack adequate iodine.
Healthy lifestyles can reduce iodine intake
Commercial salt makers add iodine to table salt to make up for this potential deficiency. However, those who don't eat salt may miss out on an easy source of iodine. Our Vitamin D3 with Sea-Iodine formula delivers 1,000 mcg of iodine derived from sea plants to support healthy iodine levels.
One reason is that athletes and people engaged in heavy physical effort deplete their natural stores of iodine through perspiration. Vegetarians also have a substantially greater likelihood of low levels of iodine than omnivorous individuals, since foods of plant origin are less rich in iodine than animal-derived foods. One study demonstrated iodine deficiency in 25% of vegetarians and an incredible 80% of vegans.
Vitamin D3 and cognitive health
Vitamin D is important for maintaining healthy cognitive function as you age. Healthy serum vitamin D levels have been shown to correspond with better scores on cognitive health tests and healthy cognitive ability.
Vitamin D3 and bone and immune health
Vitamin D (accompanied by vitamin K and essential minerals) is essential for supporting the transport of calcium into the bone matrix. This is an important step in maintaining strong, healthy bones and teeth. Vitamin D also plays a critical role in healthy immune function.
Vitamin D3 and heart health
Vitamin D helps to regulate the body's calcium balance while facilitating calcium absorption into the bloodstream, promotes a healthy inflammatory response in the cardiovascular system and encourages healthy endothelial function. Vitamin D may also help inhibit excess renin levels. Healthy renin levels help maintain healthy blood pressure already within the normal range.
Get tested to assess dosage
This vitamin D3 supplement delivers 125 mcg (5,000 IU) of vitamin D3 as cholecalciferol per capsule. We suggest you take a 25-hydroxy vitamin D blood test after three months to assess and adjust your dosage. Evidence suggests that, for most people, an optimal target vitamin D blood level may be about 50–80 ng/mL.
Supplement Facts
Supplement Facts
Serving Size 1 capsule

Amount Per Serving

Vitamin D (as cholecalciferol)

125 mcg

Iodine [from Sea-Iodine™ Complex Blend (organic kelp and bladderwrack extracts, potassium iodide)]

1,000 mcg

Other ingredients: microcrystalline cellulose, vegetable cellulose (capsule), maltodextrin, modified food starch, silica, stearic acid.
Non-GMO
Dosage and Use
Take one (1) capsule daily with food, or as recommended by a healthcare practitioner.
Caution
Individuals consuming more than 50 mcg (2000 IU)/day of vitamin D (from diet and supplements) should periodically obtain a serum 25-hydroxy vitamin D measurement. Do not exceed 10000 IU per day unless recommended by your doctor. Vitamin D supplementation is not recommended for individuals with high blood calcium levels. If you have a thyroid condition or are taking antithyroid medications, do not use without consulting your healthcare practitioner.
Warnings
KEEP OUT OF REACH OF CHILDREN
DO NOT EXCEED RECOMMENDED DOSE
Do not purchase if outer seal is broken or damaged.
When using nutritional supplements, please consult with your physician if you are undergoing treatment for a medical condition or if you are pregnant or lactating.
To report a serious adverse event or obtain product information, contact (0011) 1-866-280-2852.