Super Miraforte with Standardized Lignans
120 vegetarian capsules | Item Catalogue Number: 01940
Overview
What Is Super Miraforte with Lignans?

Men need testosterone benefits to build muscle and to maintain sexual health. This formula encourages youthful testosterone levels by combining novel plant extracts shown to affect testosterone with zinc, a mineral associated with healthy amounts of free testosterone. This formula also includes black pepper extract to boost nutrient absorption.
Testosterone is essential to a man's quality of life. This formula supports healthy levels of this important hormone.
Super Miraforte with Standardized Lignans Benefits
Supports healthy testosterone levels
Helps inhibit testosterone to estrogen conversion
Promotes healthy male sexual function
Helps maintain already healthy testosterone/estrogen ratios
Contains botanical ingredients, plus trace mineral zinc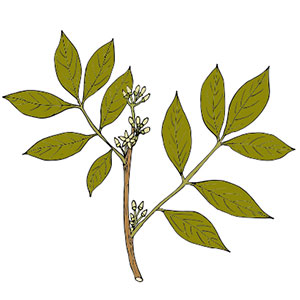 What is muira puama?
The muira puama plant is from South America. Muira puama has a long-established reputation for promoting healthy male sexual function.
Why did we add chrysin to this formula?
Chrysin is a flavonoid found in plants, honey and bee propolis. It inhibits the enzyme that converts testosterone to estrogen.
Why do I need testosterone?
There's plenty of testosterone to be had when you're young. But over time, men produce less and less of this important hormone. At the same time, diet, biology and environmental factors can push a man's body to produce more estrogen than needed. So, a well-rounded men's health supplement is one that helps balance estrogen production too.
Product Details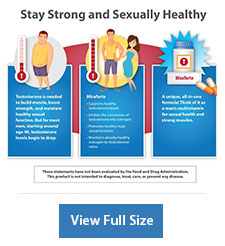 Men need testosterone to build muscle, boost strength and maintain healthy sexual function. But as men age maintaining youthful levels of testosterone may not be that easy. A significant percentage of aging men experience troubling declines in testosterone levels compared to healthy youthful levels. And changes in testosterone levels can affect your mood, cognitive health, sexual function and more.
Innovative formula for men's health
Our Super Miraforte formula promotes male health by encouraging youthful hormone metabolism and overall sexual health with potent botanical extracts including chrysin, nettle root, Muira puama and more.
Maca root: The maca plant is from South America. It has been shown in clinical and pre-clinical studies to encourage healthy sexual performance.
Chrysin: This flavonoid is found in plants, honey, and bee propolis. It is an inhibitor of the enzyme aromatase that converts testosterone to estrogen.
HMRlignan™ Norway spruce lignan extract: Norway spruce tree is a source of lignan compounds, which are converted to enterolactone in the digestive tract. Enterolactone is then absorbed into the bloodstream. Blood levels of enterolactone have been shown to be related to youthful testosterone ratios.
Stinging & dwarf nettle root extracts:  As men age, they develop a higher ratio of estrogen to testosterone, and both of these hormones play a vital role in men's prostate health and function. Nettle extract has been demonstrated in numerous clinical trials to support healthy urination and prostate function.
Muira puama extract: the Muira puama plant is also from South America. Muira puama has a long-established reputation for promoting healthy male sexual function.
Bioperine® black pepper extract: Bioperine® is a unique black pepper extract that helps enhance the absorption of other active plant compounds.
Zinc: This trace mineral has many health benefits. We've included it in this formula because of its importance for healthy testosterone balance.
Supplement Facts
Serving Size 2 vegetarian capsules
Servings Per Container 60

Amount Per Serving

Zinc (as zinc monomethionine)
7.5 mg
Chrysin
750 mg
Muira puama 4:1 extract (bark)
212.5 mg
Maca (root)
160 mg
Stinging and dwarf nettle extracts (root)
141 mg
HMRlignan™ Norway spruce (Picea abies) lignan extract (knot wood) [std. to 90% hydroxymatairesinol potassium acetate]
16.7 mg
Bioperine® piperine [from black pepper extract (fruit)]
7.5 mg
Other ingredients: vegetable cellulose (capsule), maltodextrin, rice concentrate, silica, powdered cellulose.
Non-GMO
HMRlignan™ is a trademark used under sublicense from Linnea S.A.
Bioperine® is a registered trademark of Sabinsa Corp.
Dosage and Use
For adult men, take two (2) capsules twice daily (two in the morning and two in the evening), or as recommended by a healthcare practitioner.
Caution
If you are taking any medication, use only under physician supervision. Men with existing prostate cancer may not be able to use this product. Elevations in free testosterone can unmask an occult (hidden) prostate cancer. Anyone with this concern should have a baseline PSA prior to using this product and a follow-up PSA test 60 days later. If a significant elevation of PSA is found, discontinue this product and advise physician. Do not take more than 15 mg per day of Bioperine®.
Warnings
KEEP OUT OF REACH OF CHILDREN
DO NOT EXCEED RECOMMENDED DOSE
Do not purchase if outer seal is broken or damaged.
When using nutritional supplements, please consult with your physician if you are undergoing treatment for a medical condition or if you are pregnant or lactating
To report a serious adverse event or obtain product information, contact (0011) 1-866-280-2852.