Liposomal GABA with L-Theanine
50 mL pump spray  | Item # Q-1007
Overview
What is Liposomal GABA with L-Theanine?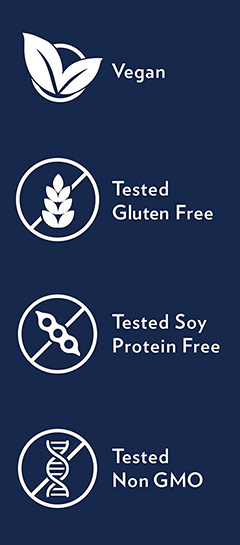 GABA is the body's main inhibitory neurotransmitter. It supports emotional balance and healthy stress response. L-theanine is an amino acid that supports relaxation and mood. Together, L-Theanine and GABA help support the brain's natural stress response. Most oral GABA supplements are destroyed in digestion and never make it into the blood. Quicksilver Scientific etheric delivery is different. Liposomal encapsulation ensures the nutrients can diffuse into the body for highly absorbed, more effective nutrition.
We partnered GABA with L-theanine for optimal nervous system support.
GABA with L-Theanine Benefits
Liposomal delivery system
Supports rest and relaxation
Calms without impairing cognition
Promotes healthy activity throughout the nervous system
Transition to Tranquility
While some oral GABA supplements suffer from poor absorption, Quicksilver Scientific uses liposomes to protect the molecule so it can be absorbed. We partnered GABA with L-theanine for optimal nervous system support.
Product Details
Life's occasional stresses and mental strains can sometimes make it difficult to sleep soundly. GABA + L-theanine elixir is known to help calm without impairing cognition.
GABA – Naturally produced by the body, GABA is the premier 'calm and connect' neurotransmitter that promotes balanced nerve transmission.
L-Theanine – A calming amino acid. After supplementing with L-Theanine, brain wave patterns can smooth out, much like they do with meditation.
Unsurpassed Absorption – Typical oral GABA supplements have very poor bioavailability. Quicksilver liposomal absorption technology delivers both GABA + L-theanine faster and more efficiently.
Supplement Facts
Serving Size:  2 mL  (4 Pumps)
Amount Per Serving
GABA (Gamma Amino Butyric Acid)
240 mg
L-Theanine
100 mg
Phosphatidylcholine  (highly purified phospholipids)
134 mg

Other Ingredients:

Water, Glycerin, Ethanol, Vitamin E (as Tocofersolan and Natural Mixed Tocopherols)
**Daily Value (DV) not established

Dosage and Use

Take 2-4 pumps by mouth as needed. Hold in mouth for 30 seconds before swallowing. Take on an empty stomach, at least 10 minutes before meals. Repeat to desired dosage or as directed by a healthcare professional.
Warnings
KEEP OUT OF REACH OF CHILDREN
DO NOT EXCEED RECOMMENDED DOSE
Do not use if outer seal is broken or damaged.
If pregnant, breastfeeding or planning to become pregnant, consult your physician before use.
To report a serious adverse event or obtain product information, contact (0011) 1-303-531-0861