Blueberry Extract and Pomegranate
60 vegetarian capsules | Item Catalogue Number: 01438
Overview

Compared with many fruits and vegetables, blueberries contain some of the most potent compounds for inhibiting oxidative stress and promoting a healthy inflammatory response. Blueberry Extract and Pomegranate is formulated from wild blueberries and includes a standardized pomegranate extract to provide additional antioxidants.
This formula is made from wild blueberries, which provide more antioxidants than commercially grown varieties.
Blueberry Extract and Pomegranate Benefits
Provides powerful antioxidant protection with high-quality blueberry & pomegranate extracts
Helps support arterial health & circulation by encouraging healthy nitric oxide production
Helps protect endothelial cell health by inhibiting oxidative stress
Helps maintain already-healthy LDL cholesterol, blood sugar & blood pressure levels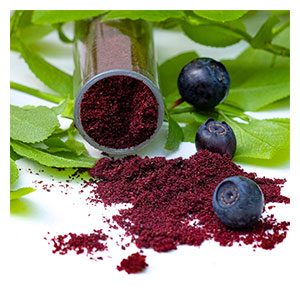 What is AuroraBlue wild blueberry extract?
Compounds in blueberry support cognitive health, help maintain already-healthy LDL and blood pressure levels and offer potent antioxidant protection.
Why did we add pomegranate polyphenols?
Polyphenols are a kind of chemical that occurs naturally in plants. Pomegranate is packed with healthy, highly-absorbable polyphenol compounds.
Wild Blueberry Fruit
Blueberry Extract and Pomegranate uses AuroraBlue®, made from wild Alaskan blueberries that grow in a completely natural environment without exposure to any chemicals. This complex comes from the genus Vaccinium that's abundant in anthocyanins, with nearly 10 times the antioxidant capacity of commercially cultivated berries.
Product Details
Blueberries contain powerful health-promoting compounds that help inhibit oxidative stress and promote a healthy inflammatory response. Pomegranate is another fruit renowned for its healthy properties. It contains compounds that support blood vessel health and promote healthy metabolism.
Blueberries & Cardiovascular Health
Blueberry compounds help support cardiovascular health by promoting production of nitric oxide, a compound that helps blood vessels relax. Blueberry compounds also promote the healthy metabolism of cholesterol and related fatty compounds that circulate in the blood, which helps maintain healthy cholesterol levels already within normal range.
Pomegranates & Cardiovascular Health
Pomegranate has also been studied in the context of heart health. Pomegranate compounds may help support blood pressure levels already within normal range. Pomegranate also helps maintain endothelial cell health. Endothelial cells are the delicate cells that line the inside of blood vessels.
Other Health Benefits of Pomegranate
Pomegranate compounds have also been shown to help maintain already healthy blood sugar levels. And both blueberry and pomegranate compounds help promote a healthy inflammatory response. By supplementing with both blueberry and pomegranate compounds, you can obtain the health benefits of both of these superfruit superstars!
Supplement Facts
Serving Size 1 vegetarian capsule

Amount Per Serving

Wild Blueberry whole extract (fruit)

375 mg

POMELLA® Pomegranate extract (fruit) [standardized to 30% punicalagins (60 mg)]

200 mg

AuroraBlue® Wildcrafted Blueberry Complex [Alaska Blueberry (Vaccinium alaskaense How.), Oval-leaf Blueberry (Vaccinium ovalifolium Sm.), Alpine Blueberry (Vaccinium uliginosum L.), Dwarf Bilberry (Vaccinium cespitosum Michx)] (fruit, leaves, stems)

100 mg

BlueActiv™ Wild Blueberry extract (fruit)

75 mg

Other ingredients: vegetable cellulose (capsule), maltodextrin, vegetable stearate, silica.
Non-GMO
POMELLA® Extract is covered under U.S. Patent 7,638,640 and POMELLA® is a registered trademark of Verdure Sciences, Inc.
AuroraBlue® is a registered trademark of Denali BioTechnologies, Inc.
Dosage and Use
Take one (1) capsule once or twice daily, or as recommended by a healthcare practitioner.
Warnings
KEEP OUT OF REACH OF CHILDREN
DO NOT EXCEED RECOMMENDED DOSE
Do not purchase if outer seal is broken or damaged.
When using nutritional supplements, please consult with your physician if you are undergoing treatment for a medical condition or if you are pregnant or lactating.
To report a serious adverse event or obtain product information, contact (0011) 1-866-280-2852.