Life Extension Magazine®
Issue:
September 2021
Several nutrients have been shown to lower the risk of macular degeneration and improve visual acuity
Reduce Harmful Intestinal Bacteria
Bacteriophages (phages), along with probiotics, target and destroy harmful bacteria, while boosting a healthy microbiome.
Refuel Your Immune System
Supporting a healthy immune response requires fundamental nutrition.
Elevated Cortisol Ages Skin and Hair
High cortisol levels can lead to hair loss and wrinkled skin. Certain plant extracts can safely lower elevated cortisol.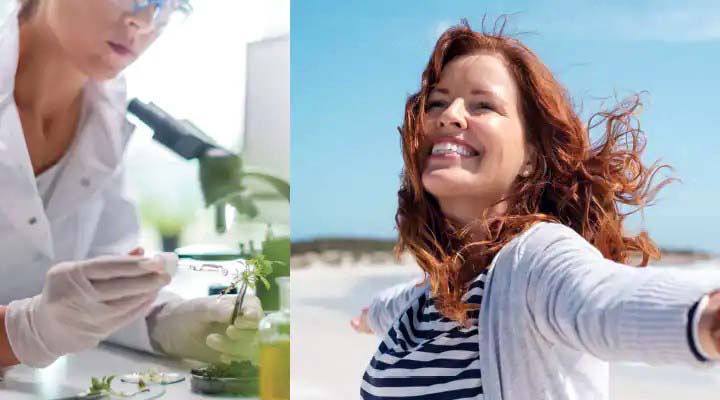 Menopause Symptom Relief Without Hormones
Menopausal symptoms were significantly reduced using a standardized rhubarb root extract.
In the News: Case Study – Fighting Leukemia
Immunotherapy combined with conventional chemo resulted in complete remission in a patient with chronic lymphocytic leukemia.
As We See It: Lethal Delays
When a new lifesaving therapy is announced, few calculate how many died in the waiting room. Millions of Americans may have perished because of a 37-year delay in just one drug becoming available.
Higher Selenium Levels Could Improve Breast Cancer Survival
Higher selenium levels linked to improved breast cancer survival; calcium and vitamin D reverse fracture risk in vegan women.
Anti-Aging Power of Hormone Therapy
In this follow-up interview on hormone therapy, Dr. Thierry Hertoghe discusses exactly which hormones help fight disease and promote longevity, as well the benefits of supplements.
Superfoods: Salmon
Salmon is rich in omega-3 fatty acids, B vitamins, selenium, and astaxanthin. Studies show eating salmon may help prevent heart disease and age-related memory loss and promote longer life.