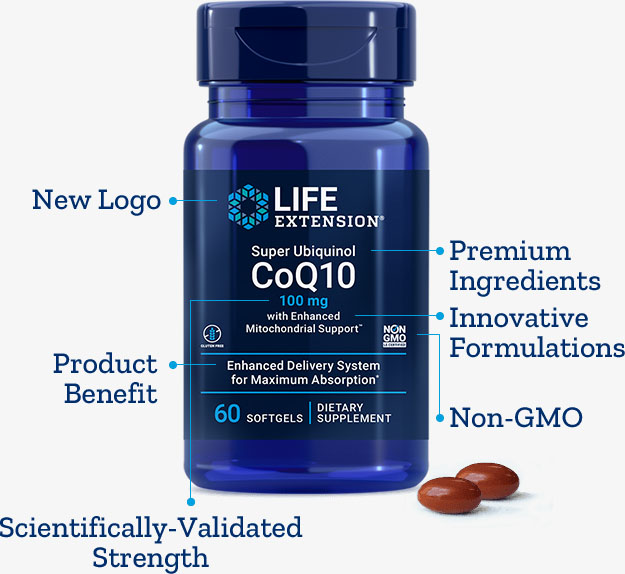 New Logo, New Look & New Bottles
New dark blue bottles and lids.
Our new bottles reveal an evolutionary new look for our always innovative products. You will see our bottles and packaging transition into sleek, dark blue bottles and lids.
During this transition period, products may arrive in either branded packaging. We would never distribute outdated products, so you'll always get fresh products. Regardless of package design, you'll be getting the products you rely on to live your healthiest life.
CoQ10 Supplements for Cellular Level Energy
CoQ10 fuelling cellular energy for health & longevity
Our CoQ10 supplements offer potent antioxidative support for heart health and create internal combustion, turning fuel into real energy. The traditional form of CoQ10, ubiquinone, is difficult for your body to absorb, but our ubiquinol form absorbs up to eight times better.
4 Reasons Why Everyone Should Take Our CoQ10 Supplements
Provides potent cardiovascular health support
Promotes healthy cellular-level energy production
Delivers vitality to workhorse organs like the heart, brain & kidneys
Offers powerful antioxidant support

For bladder health and normal urinary frequency
Need a break from bathroom breaks?  Many women need a little help when it comes to bladder and urinary health — especially as they get older.
Specially formulated bladder health supplement for women

Herbal supplement made with lindera, three-leaf caper and horsetail extracts

Helps maintain normal urinary frequency & nighttime urination patterns
Life Extension Magazine®
A blend of plant extracts has been shown to reduce urinary episodes by 65% in women, with 79% reporting a feeling of significant benefit.