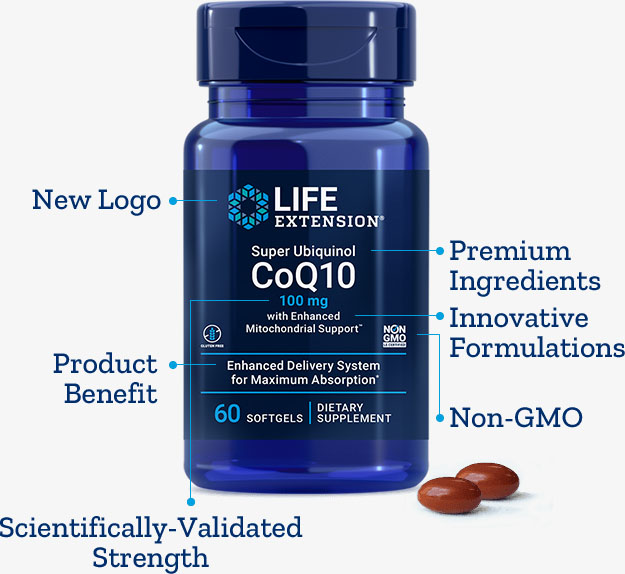 New Logo, New Look & New Bottles
New dark blue bottles and lids.
Our new bottles reveal an evolutionary new look for our always innovative products. You will see our bottles and packaging transition into sleek, dark blue bottles and lids.
During this transition period, products may arrive in either branded packaging. We would never distribute outdated products, so you'll always get fresh products. Regardless of package design, you'll be getting the products you rely on to live your healthiest life.
CoQ10 Supplements for Cellular Level Energy
CoQ10 fuelling cellular energy for health & longevity
Our CoQ10 supplements offer potent antioxidative support for heart health and create internal combustion, turning fuel into real energy. The traditional form of CoQ10, ubiquinone, is difficult for your body to absorb, but our ubiquinol form absorbs up to eight times better.
4 Reasons Why Everyone Should Take Our CoQ10 Supplements
Provides potent cardiovascular health support
Promotes healthy cellular-level energy production
Delivers vitality to workhorse organs like the heart, brain & kidneys
Offers powerful antioxidant support

The Best Supplements Science Can Offer
When putting something in your body, you should be confident that you're getting the nutritional benefits your body deserves. We've been delivering the highest-quality products - backed by science and formulated with the finest ingredients.
What Matters to You, Matters to Us
We're committed to empowering you to live a healthier life. Whether it's finding sustainable partners for our ingredients or funding the latest anti-aging research, we're all about your health & wellness.
Product Transparency
40 years of research dedicated to bringing you premium, scientifically-validated formulations.
Life Extension Magazine®
Clinical studies show that two plant extracts promote restful sleep. One improved sleep efficiency by 74% while the other enhanced restorative sleep by 72%.
Orders shipped from Fiji using DHL Express with a tracking number.